INSPIRING 

AND NOURISHING 

RETREATS FOR YOUR WELL-BEING IN THE CITY
---
ReBALANCE RETREATS
"Life is like music for its own sake. We are living in an eternal now, and when we listen to music we are not listening to the past, we are not listening to the future, we are listening to an expanded present." Allan Watts
Join us for listening and experiencing present moment glimpses!
Mainly in a doing mode, always pursuing for faster or better, often chasing to catching our breath… At the intersection between work and private commitments we are pushing ourselves experience our limits. We constantly find ourselves ON – on continuous connectivity, on multitasking demands, email or instant messaging. As a result, we may find difficulty in SWITCHING OFF the doing mode. This constant external focus has impact on our well-being, concentration ability, work, relationships or the physical body.
What about spending one day / half day just with your INNER WORLD – without mobile phone, email and social platforms use but, SENSING, FEELING, NOURISHING & BEING PRESENT. The Re-Balance Retreats are based on the four pillars of the our ReBALANCE Program. Read more…
~~~~~~~~~~~~~~~~~~~~~~~~~~~~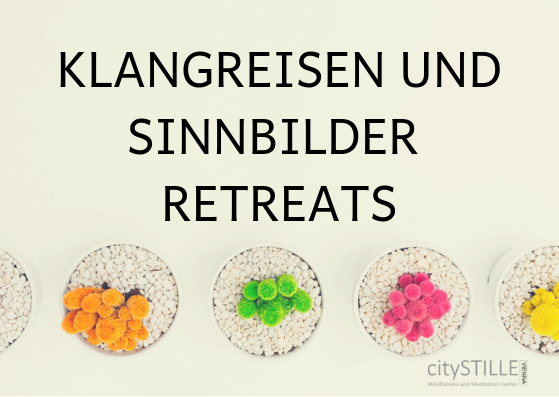 KLANGREISEN & SINNBILDER RETREATS
Klangreisen & SINNBILDER"sind ein Zusammenspiel von Klängen, Geschichten und gemalten Bildern, die die Fantasie beflügeln.
Die Geschichten lassen Bilder im Kopf entstehen, die von den Teilnehmern sehr unterschiedlich erlebt werden, da diese unvermeidlich mit den Erfahrungen, die unser Gehirn im Laufe unseres Lebens abgespeichert hat, verknüpft werden. Die Klänge und sanften Schwingungen unterschiedlicher Klangschalen führen den Körper zeitgleich in tiefe Entspannung, ähnlich des Alphazustandes der Einschlafphase.
Diese Kombination ermöglicht es, in kurzer Zeit alle Anspannungen des Tages loszulassen, die Muskeln entspannen sich und die Herzfrequenz normalisiert sich. Negative Empfindungen dürfen gehen und neue, kreative Gedanken und innere Bilder finden Raum.
Wir experimentieren dabei mit verschiedenen Materialien und Techniken, wobei die Freude am Tun und die Entdeckung der eigenen Kreativität im Vordergrund stehen. Sie werden erleben wie befreiend es sein kann, Bilder ohne Anspruch auf künstlerische Perfektion zu gestalten…Weiterlesen
~~~~~~~~~~~~~~~~~~~~~~~~~~~~
ART OF BEING
Mindfulness & Art RETREATS
with Michael Anderson, MA, BA
MBSR Facilitator  
Planning for 22-23 February 2019.
Exact dates & information coming soon.
Weitere Informationen Folgen. 
~~~~~~~~~~~~~~~~~~~~~~~~~~~~